CUSTOM ARTIFICIAL TREES
Fiddle Leaf Fig Trees are Our Best Selling Tree.
We design and build your perfect custom artificial trees. You choose the height, width style, and foliage.
Let Pacific Silkscapes custom design and create your own custom artificial trees onsite. Our experienced team builds distinctive and natural-looking trees for you using real wood trunks. Premium foliage is realistic in texture as well as color. With precision drilling, our crew builds the trees in Sacramento, CA to last. Crafted using only the highest-quality materials. As a result, when you purchase a custom tree from Pacific Silkscapes, you end up with a real tree. Enjoy a custom tree with high-quality foliage, authentic trunks, and highly-detailed craftsmanship.
There are several advantages to having custom-designed artificial trees, including:
Customization: One of the main advantages of custom-designed artificial trees is that they can be tailored to meet specific design requirements. This means that they can be adapted to fit into any space, regardless of their shape or size.
Durability: Artificial trees are made from materials that are designed to last, so they don't require the same level of maintenance as natural trees. Additionally, they are not affected by factors such as changes in climate, soil quality, or pest infestations.
Aesthetics: Custom-designed artificial trees can be made to look just like real trees but without the problems associated with natural trees. This means that they can add a realistic touch of nature to any indoor or outdoor space.
Sustainability: Custom-designed artificial trees are an environmentally friendly choice because they do not require the same resources and energy as natural trees. Additionally, they can be made using recycled or sustainable materials, which reduces their carbon footprint.
Versatility: Custom-designed artificial trees can be used in a wide variety of settings, from office buildings and malls to outdoor spaces such as parks and golf courses. This means that they can be used to enhance the aesthetics of any space, regardless of its purpose.
Realistic artificial trees may transform any space into a natural and dynamic environment when used as an interior design feature. At Pacific Silkscapes, we offer a vast selection of designer trees to pick from. Make an appointment to visit us or send us your specifications. See something on the internet you want? Email us a photo and we can quote you a similar artificial tree in the size you need. Need more ideas? Visit our Pinterest page for more photos of custom artificial trees.
Don't forget the planter!
Don't forget to purchase the ideal planter.  Nothing beats a well-made handcrafted planter for enhancing the beauty of any room. Choosing the right planter will enhance your custom tree while also complementing your décor. Check out our BLOG post on why planters are important. Also, review some of the planters offered by Pacific Silkscapes.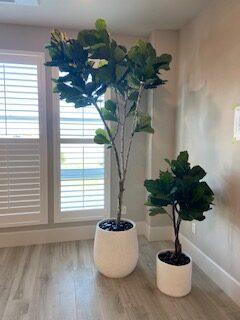 Are custom artificial trees realistic?
Handcrafted artificial fiddle leaf fig trees from Pacific Silkscapes are so popular that they can be found in many model houses throughout California and Northern Nevada.  They're popular among interior designers and model home builders, so you'll enjoy them as well.  Fiddle-leaf fig trees are the most popular artificial trees we've ever sold.

Replica custom trees just look more natural and realistic than the pre-made trees you see online.  From their rustic trunks and branches to botanically identical leaves, our custom artificial trees are quite impressive and mesmerizing.
 Hand-made custom trees are amazingly lifelike and have become a popular way for interior designers to dress up a drab room.   Even the most discerning buyers can be fooled by today's custom artificial trees.  Purchase our one-of-a-kind custom trees and you will have a stunning tree that makes a statement.
Can you put artificial trees outside?
• Yes, you can definitely use artificial plants and trees outside.  Not all fake plants and trees, however, are suitable for outdoor use. The material used to make outdoor artificial plants and trees is UV resistant to nature.  When exposed to direct sunshine, this substance keeps the foliage from losing its color.
• Pacific Silkscapes carries these outdoor products.  UV-infused artificial plants are made with a special Poly-Blend® material that has UV protection built right into the material of the plants, flowers, or trees.
• Poly-Blend® trees are, by far, the most durable and will last you the longest time without fading or becoming brittle from harsh UV rays.  Expect 5 – 10 years* of use in some of the harshest climates.
• Pacific Silkscapes can also apply UV-resistant spray to make them fade-resistant.  Our UV-treated plants get sprayed with a UV coating before leaving our warehouse. This treatment lasts 1.5 years or more* depending on the intensity of direct sunlight.
So all in all, are fake plants tacky – not so much anymore. They're quality-made, realistic, impressive, and an interior design must-have.  Topiary trees are among the most realistic faux plants. Many inside experts continue to note the rise in faux plant interest particularly from the younger generation. It's unlikely to stop anytime soon.