Tropical Palm Trees
REALISTIC TROPICAL PALMS OFFERED BY PACIFIC SILKSCAPES
There are very few trees that can match the warmth, charm, and fantasy of Pacific Silkscapes' artificial palm trees. They bring so much style and beauty to any landscape design. With their stately trunks, shapely leaves, and arching fronds, these are some of the most exotic elements which will make quite an impression in any setting. There are many species of palm trees and there's surely one which will blend in beautifully in your landscaping project and conjure balmy, tropical vibes in the setting.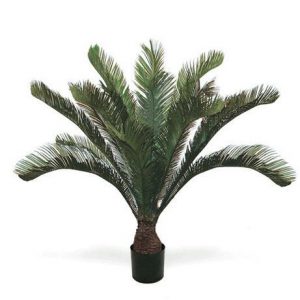 Check out our new large outdoor coconut palm trees!!!
Our Artificial Palm trees are lifelike!
At Pacific Silkscapes, we purchase only tropical palm trees that look life-like, are constructed to last, and use real tree trunks.  We choose floral and sprays that have realistic texture and color.  The artificial palm trees that Pacific Silkscapes sells are built to last using the highest quality materials.  Even though our products are realistic and built to last, they are surprisingly affordable with the value you deserve.
Transform any room in your home or office with our line of tropical artificial palm trees. Use it in events, weddings, and large presentations.  Also, check out our tropical trees for rent. Use for setting a tropical theme for your office or lobby.  Also, check out our outdoor artificial palm trees that are UV resistant and built for the outdoors.
Outdoor TropicalTrees
If you're looking to create a tropical landscape in your commercial space, nothing will do it better than our collection of outdoor artificial tropical palm trees. Our artificial palm trees are popular and in demand. Just place some in your landscaping project and you'll have an environment where everyone loves spending their time in.
From outdoor artificial Banana Palm Trees to outdoor silk Coconut Palm Trees, outdoor faux Areca Palm Trees to outdoor fake Kentia Palm Trees, we have a large selection of some of the most eye-catching palm trees which will make a stunning statement in your space. Our line of artificial palm trees represents unique species from around the world. From the iconic Sago Palm to regional varieties like the Areca, Banana, Phoenix, and Kentia Palms, our realistic palm trees bring a touch of the tropics to indoor and/or outdoor spaces. They range in size up to 10 feet high. For more ideas, check out the palm trees on our Pinterest site.
Don't forget the planter!
Don't forget to purchase the ideal planter.  Nothing beats a well-made handcrafted planter for enhancing the beauty of any room. Choosing the right planter will enhance your custom tree while also complementing your décor. Check out our BLOG post on why planters are important. Also, review some of the planters offered by Pacific Silkscapes.