Realistic Silk Flowers
CREATE YOUR OWN FLOWER ARRANGEMENTS USING SILK FLOWERS
VISIT OUR SHOWROOM FOR GOOD QUALITY SILK FLOWERS OR ORDER BY CALLING 1-877-883-5672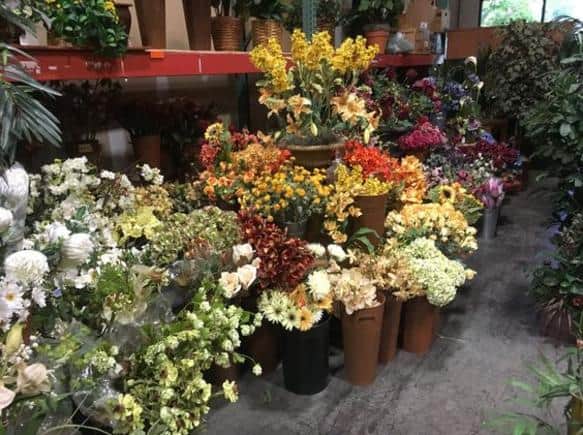 Shopping for bespoke artificial flowers can be a little overwhelming, as there are so many options available. Here are a few tips to help you shop for high-quality silk flowers:
Look for realistic colors and textures. High-quality silk flowers should have colors that closely resemble those found in nature, and they should have a realistic texture that mimics the look and feel of real flowers.
Check the material. Look for silk flowers that are made from high-quality materials, such as silk or other natural fibers. Cheap silk flowers may be made from synthetic materials, which can look fake and plastic-like.
Check the workmanship. Make sure the flowers are well-crafted and carefully detailed. A high-quality silk flower will have well-defined petals, leaves, and stamen that are securely attached to the stem.
Feel the petals. High-quality silk flowers should have soft, supple petals that feel like real flowers. Avoid silk flowers that have stiff, plasticky petals or that feel cheap and rough to the touch.
Pay attention to the details. Look for silk flowers that have realistic-looking buds, leaves, and stems. The leaves should be veined and textured, and the petals should have a natural-looking center.
Consider the price. High-quality silk flowers may be more expensive than their cheap counterparts, but they should be worth the investment in the long run. Avoid buying the cheapest silk flowers available, as they will likely look fake and cheap.
By following these tips, you should be able to find high-quality silk flowers that look and feel like the real thing.
Today's Artificial Flowers are truly realistic
High-quality silk flowers are a great alternative to fresh flowers. Today's faux flowers have the true look and feel of a damp petal. Flowers in single stems, bouquets, or arrangements have been beautifying our homes forever. Nothing quite complements your home or office space as a touch of blooms.  It's so easy to drop some artificial flowers into a simple flower vase. Create that harmonious atmosphere your mind is seeking.  Also, check out our blog, "How artificial floral evolved to 'Real Touch' Floral."
Silk Flowers are not made of "silk"
Silk flowers adopted the name when these fake flowers were actually sewn with silk. The current manufacturing methods actually use synthetic fibers to create accurate artificial flowers. Our artificial flowers need little maintenance. With no wilting, no watering, and at a fraction of the cost of fresh flowers, faux flowers are enjoyed all year long. Unlike fresh flowers that need refrigeration, artificial flowers last more than one event. Fake flowers are for many occasions and still look as stunning and attractive as the first. Check out our cherry blossom stems, our faux succulents, and our high-demand silk orchids.
Enjoy Faux Flowers Year-Round
Artificial flowers keep your surroundings warm, comfortable, and welcoming the whole year round. Calla lilies, roses, peonies, daisies, iris, and petunias are stylish. They are a decorative accent fit. They are in style in any interior space and season.


Check out Pacific Silkscapes large selection of artificial flowers, elements, and vases. We sell them at below retail pricing. Pick out your own replica flowers. Or have our experienced floral specialist create your perfect floral arrangements.
For more information about fake flowers, check out this faux floral blog. Also, check out this article on how to arrange faux flowers like a pro.