Realistic Faux Succulent Arrangements
We can design the perfect succulent arrangements using any designer bowl or vase you want!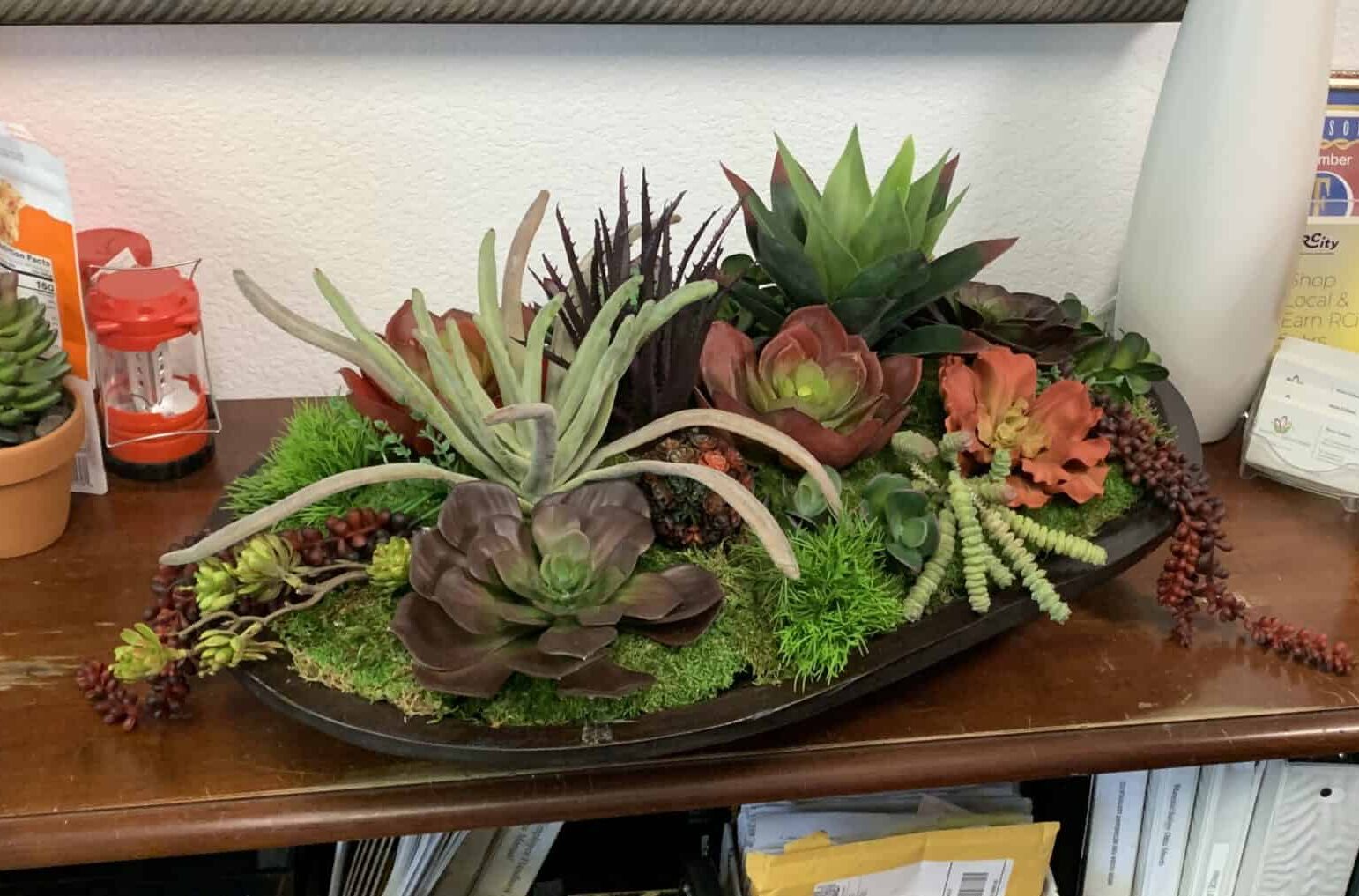 Succulent Arrangements are our best-selling home decor element!
Custom artificial succulent arrangements remain one of our best-selling home decor products at Pacific Silkscapes.
High-quality faux succulents are "having a renaissance, and have become a decorating staple in boutiques, restaurants, offices, and apartments," wrote Patrick Sisson in an April 2018 CURBED.com article entitled, "Why cactus and succulents are the perfect plants for this cultural moment."
Pacific Silkscapes' artificial succulent arrangements have vibrant colors
First, today's replica succulents have multicolored hues and lush leaves in almost limitless patterns. Second, these make eye-catching botanical arrangements. Third, faux succulent arrangements capture the beauty of the desert plant as seen in nature.
Artificial succulents use new technology and artistry to achieve a life-like appearance. Our succulents appear life-like right down to the touch. For a Southwestern look, choose from a wide range of popular styles and sizes. Allow Pacific Silkscapes to create the ideal succulent arrangement for you. Need ideas? Check out our succulent page on Pinterest. Let us create an arrangement like the ones you see.
A large variety of succulent arrangements at Pacific Silkscapes
Live succulents are well-known for their hardiness and stunning variety. They have become a modern design staple. Beautiful faux succulents combine colors, textures, and shapes found in real succulents. The end result is a stunning collection of nature's most versatile plants.
Fake succulents are realistic.
You want to add the character of a house succulent to your home or office, but you can't even keep weeds alive. Quality succulents are so lifelike that most guests won't believe they're fake. Have us create one-of-a-kind pieces for your home's decor. Our succulent arrangements are a best-selling item. These succulents are in most of the model homes we furnish. Realistic succulent plants are ideal for desks, dining tables, coffee tables, and bookshelves.
When it comes to these beautiful design elements, your imagination is the limit. Combine a few succulents in a simple orchid arrangement. Or you can opt for a magnificent succulent wall display. The majority of our faux plants come with moss or rocks to add realism. Replica succulent and cactus plants are stunning. Their organic texture and color complement any interior space. Friends and family will love these unique botanical specimens.
Visit our showroom in Sacramento to see some of the succulent arrangements we created.
Artificial Succulent Arrangements made by Pacific Silkscapes:
More succulent arrangement ideas from Pinterest:
Can artificial succulents be used outdoors?
Yes, you can definitely use artificial succulents outside.  Not all artificial succulents are suitable for outdoor use. The material used to make outdoor artificial plants and trees is UV resistant to nature.  When exposed to direct sunshine, this substance keeps the foliage from losing its color. Pacific Silkscapes carries these outdoor products.  UV-infused artificial plants are made with a special Poly-Blend® material that has UV protection built right into the material of the plants, flowers, or trees.

Who sells wholesale artificial succulents?
Pacific Silkscapes can sell anyone succulents at wholesale pricing. The min requirements may be 6, 12, or 24 depending on size. We may have stock on hand or we may have to make a special order for you.
I have a very special vase that I would like succulents placed inside, can you design this for me?
Absolutely. Our specialty is designing out-of-this-world arrangements for you. Bring us that special designer vase or planter and we will get to work.